19 SEPTEMBER 2000 at BIG APPLE in Kobe
       21 SEPTEMBER 2000 at SOMEDAY





Profile
Joe Rosenberg, originally from Boston Massachusetts, studied with classical
soprano saxophonist Joe Viola, renowned woodwind master Buddy Collette and
the late clarinetist John Carter. Joe has received a Jazz Performance
Fellowship from the National Endowment for the Arts, was a member of the
"Los Angeles Jazz Workshop" big band, the quartet "Inside Out" and has
performed throughout the U. S. and Japan. He is the leader of the quartet
"Affinity" as well as the "Joe Rosenberg Group".

Joe has performed with internationally known artists such as Dewey Redman,
Gary Foster, Buddy Collette, Junko Inishi, and Misha Mengleberg. His band
"Affinity" has performed several times at Yoshi's Nitespot in San
Francisco, the top Bay Area jazz club. Leading Los Angeles studio musician
and renowned improviser Gary Foster says "One of the best sounds on soprano
I've heard" and Phil Elwood of the San Francisco Examiner wrote "He plays
very well, with rich tone, admirable technique and considerable
imagination."

Joe has four internationally released recordings as a leader with his band
"Affinity" on the prestigious "Music & Arts Programs of America" record
label. They are; "Affinity Plays Nine Modern Jazz Classics" M & A CD -
834, "A Tribute To Ornette Coleman Featuring Dewey Redman" M & A CD - 938,
"A Tribute To Eric Dolphy With Buddy Collette" M & A CD - 939, and "This Is
Our Lunch" M & A CD - 940. Affinity has also been recorded by KJAZ/The
National Jazz Radio Network and featured on the radio program "See's Sunday
Night", broadcast internationally. Of that band Lee Hilderbrand of the
Berkeley Express says "One of the most serious minded combos in California
bringing refreshing new twists to complex compositions"

Living in Hong Kong since the spring of 1995 Joe leads his own group
utilizing some of the top musicians in Hong Kong such as Eugene Pao, Ted
Lo, Dave Packer, Paul Candelaria, Peter Scherr, and Anthony Fernandez. He
has also worked with Nelson Hui's "Dancing Stone", and highly acclaimed
dancer/choreographer Mui Cheuk Yin. Joe performs at the Jazz Clubs in Hong
Kong and Macau as well as performances in China and Japan at the SOMEDAY.

Professor Anthony Braxton, head of the music department at Wesleyan
University and recipient of the MacArthur Foundation "Genius" grant,
commenting on Joe's debut recording, "They bring something special to every
corner of the music. For me, having a chance to experience music like
this, that's what keeps me going. The music is totally on the first
level." About his music Joe remarks, "The goal for me each time we
perform is to become so connected with the music that it's almost like
being in another state." He adds, "While we certainly respect the
tradition, I believe people should attempt to cut their own path in
whatever they do, and that's what we're attempting to do with our music."


---
---
---
---
CD of Joe Rosenberg
1 . A Tribute to Eric Dolphy with Buddy Collette
JOE ROSENBERG'S AFFINITY
A TRIBUTE TO ERIC DOLPHY WITH BUDDY COLLETTE
MUSIC & ARTS CD 939
Joe Rosenberg (ss), Buddy Collette (as, fl), Rob Sudduth (ts)
Michael Silverman (b), Bobby Lurie (dm)





---
2 , This Is Our Lunch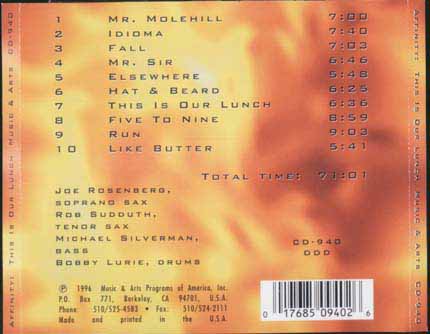 JOE ROSENBERG'S AFFINITY "THIS IS OUR LUNCH"
MUSIC & ARTS CD 940
Joe Rosenberg (ss), Rob Sudduth (ts), Michael Silverman (b)
Bobby Lurie(dm)

This is a very compelling example of collective creative improvisation that
swings a sound collection and experimentation that flows through the
listener's ears. Rosenberg and Sudduth complement each other on their
respective instruments, two minds that often seem to think as one, creating
sonic joy. It is a pleasure to hear the music of Eric Dolphy played by
musicians who understand the nuances of his compositions. A very
invigorating version of "Hat and Beard" is presented here, but who is
playing bass clarinet?

The cohesiveness of these musicians is most impressive as they weave their
way through intricate harmonies and intriguing interplay. It is becoming
more and more evident to this reviewer that, in this modern day and age,
some of the best new creative improvised music is coming forth, in ever
increasing numbers, on small independent labels. This Is Our Lunch is a
fine example of the delights to be heard on record lables that are not
among the corporate giants of the genre.

Leonard J. Bukowski Cadance May 1997






---
3 , A Tribute to Ornette Coleman featuring Dewey Redman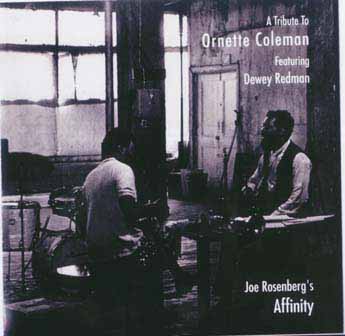 JOE ROSENBERG'S AFFINITY
A TRIBUTE TO ORNETTE COLEMAN FEATURING DEWEY REDMAN
MUSIC & ARTS CD 938
Joe Rosenberg (ss), Dewey Redman (ts), Michael Silverman (b)
Bobby Lurie(dm)

Without much fanfare, Music & Arts (P.O. Box 771, Berkeley, CA 94701),
while releasing some older-styled CDs, has become one of the most
underrated of all the avant-garde labels. This is a consistently exciting
set. The trio Affinity (Joe Rosenberg on soprano, bassist Michael
Silverman and drummer Bobby Lurie) welcomes tenor saxophonist Dewey Redman
to a San Francisco concert and performs six Ornette Coleman compositions
from Ornette's early quartet days. Redman, who played regularly with
Coleman during the late 1960's/early 1970's, always had a different sound
than Ornette (and plays tenor rather than alto) but his improvising style
fit in perfectly with Coleman during the era and their musical relationship
was mutually beneficial.

With Rosenberg's soprano sometimes sounding like Ornette, Silverman and
Lurie contributing very alert support and Redman playing with a great deal
of fire, this is a very successful project. Such rarely performed tunes as
"Blues Connotation", "The Sphinx", and "Beauty Is A Rare Thing" serve as
perfect vehicles for lengthy free bop improvisations (which are full of
fresh melodies), making one wish that the group would perform in L.A.
Highly recommended. Scott Yanow L. A. Jazz Scene April 1997






---
4 , AFFINITY plays ORNETTE COLEMAN,s LITTLE SYMPHONY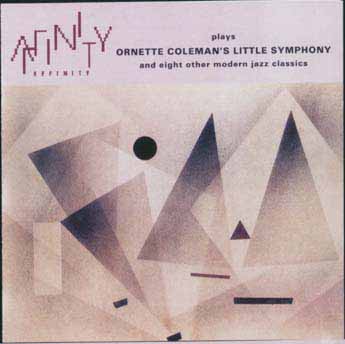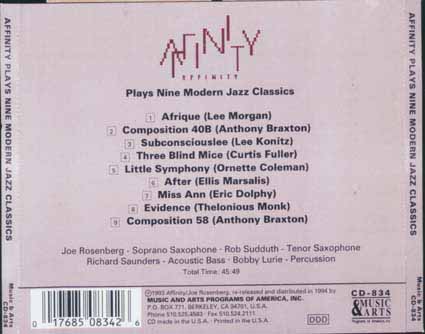 AFFINITY PLAYS 9 MODERN JAZZ CLASSICS キ MUSIC & ARTS
CD 834
Joe Rosenberg (ss), Rob Sudduth (ts), Richard Saunders (b)
Bobby Lurie(dm)

One hopeful sign of jazz's idealogical wars are waning is the eponymous,
self-produced CD by the quartet Affinity which plays tunes by hardboppers
Ellis Marsalis and Art Blakey and outcats Eric Dolphy and Anthony Braxton
(two by the latter, one a remarkably faithful reduction of his big-band
march "Composition 58"). This two-sax two-rhythm quartet of unknown but
good players ignores stylistic distinctions: Blakey's "Afrique" becomes a
lattice of independent riffs, while the band joyfully swings Braxton's
vamp-driven "40B" (which the composer dedicated to soul altoist and
avant-garde hater Lou Donaldson). The interplay and intonation are good;
the rhythm section slips comfortably into and out of swingtime. Any CD
that goes from Cedar Walton's slick take on "Three Blind Mice" to Ornette
Coleman's tumbling "Little Symphony" can't be bad.

Kevin Whitehead Tower Records Pulse June 1993

This has some of the atmosphere of Steve Lacy's early 60s recordings (The
Straight Horn, particularly). Two saxes, bass and drums, drawing long
linear improvisations out of nine inspired choice covers (by Braxton,
Ornette, Konitz, Dolphy, etc.) Tenor Rob Sudduth's solos have an itchy
schizophrenic quality - his tone and phrasing shift dramatically from track
to track, taking on the character of the relevant feted composer (Ornette
on "Little Symphony", Dolphy on "Miss Ann", Konitz, with soprano Joe
Rosenberg in the Warne Marsh counterpoint role, on "Subconsciouslee"). A
rather dry, internalized air of concentration informs on all the music,
which will probably further hamper its already limited outreach. A shame.
Its rewards are considerable.

Tony Herrington The Wire July 1993

This is one of those recordings that shows how interrelated the jazz avant
garde and mainstream are. Affinity plays music by composers ranging from
Art Blakey and Cedar Walton to Eric Dolphy and Anthony Braxton with an ease
that shows how close the different strains really are. Saxophonists Joe
Rosenberg and Rob Sudduth are a good tandem whether doing beautiful unison
work on the Ellingtonian sonorities of Ellis Marsalis' "After" or weaving
lines around each other on Blakey's "Afrique". They do a variety of styles
well like hard bop, Tristanoish linear improvisation, and the swirling,
emotional world of Ornette Coleman. The sax players are constantly
slippery and melodic whether solo or together and the rhythm section of
Richard Saunders and Bobby Lurie are excellent at keeping the beat going no
matter what the saxes are doing. The biggest shock is Braxton's
"Composition 58" which turns out to be a well know march from his old
Creative Orchestra Music 1976 LP. This would seem to be a big job for a
quartet to handle but they do it, Rosenberg handling the melody and Sudduth
tooting arpeggios above him. This group has a very entertaining and open
minded approach to a wide spectrum of jazz.
Jerome
Wilson キ Cadence December 1993

Outlining a possible track to elude the "avant - garde or revival"
alternative, by taking over the tradition and transferring the codes: Here
is the common bet of theses two bands. The markers and means in use are
however, different. Such a mission is not new but, constitutes what could
be the prominent happening of the last fifteen years; provided that you
focus your mind more carefully on them. Some scouts have blazed the trail,
Dick Sutton and Steve Lacy (1954), Lester Bowie, Dave Holland (then Steve
Coleman) from 1984, exclusive of the abstract and conservative eclecticism
of Wynton Marsalis and consorts. Affinity is lead by Joe Rosenberg,
soprano saxophonist to be discovered, a student of the legendary Joe Viola,
then Buddy Collette and John Carter. He has, like all his peers listened
to Lacy, and possesses a silky sound. His association with the mellow
tenor saxophone of Rob Sudduth is a real delight. The succession of the
classics of Lee Morgan, Ellis Marsalis, Curtis Fuller, Thelonious Monk,
Ornette Coleman, Eric Dolphy, and Anthony Braxton enhance the continuity of
those languages, that one would like to be exclusive, seeing that an
interpretive point of view doesn't put those musics into their respective
codes. It's like a median - not medium - path which boosts the history of
modern jazz with an energy which invigorates a special ォ dynamic
classicism.
Philippe Alen IMPROJAZZ Paris 1993

Affinity is a quartet featuring saxophonists Joe Rosenberg and Rob Sudduth,
with the ever-steady Richard Saunders on bass and Bobby Lurie playing a
beautifully tuned kit. For inspiration, Affinity looks back to the jazz
modernists (Monk, Konitz, Dolphy, Ornette), and keeps Braxton's
compositions 40B and 58 on the same sort of middle ground, never going all
the way out, but ceaselessly poking and prodding the music, true to the
spirit of its originators. Both reedsmen are precise and adventurous,
though they seem most at home on their strong interpretations of bop-based
charts.

Freeway September 1994






---
---
Please send me some messages!

      for Booking . Tel , joe's Telephone No !
from 10 feb 2000
---
for my friends JOE